Digital magazine, International Golf Pro News (IGPN), has reached its 36th Issue as it continues its mission of providing useful, relevant and interesting content to PGAs of Europe Member Country PGAs and their individual PGA Professional Members.
The monthly publication is distributed amongst the Association's 36 Member Country PGAs and their collective 21,000+ PGA Professionals becoming a hugely valuable resource that allows the PGAs of Europe to support the PGAs with their advancement of their own Members.
Issue 36 is a Coaching Special featuring interviews with Mike Walker and David Leadbetter, content from SNAG Golf, Golf Pride, the PGA of Switzerland, Peter Millar, BMW, the Ryder Cup European Development Trust, and news from the PGAs of Europe and its various events and activities.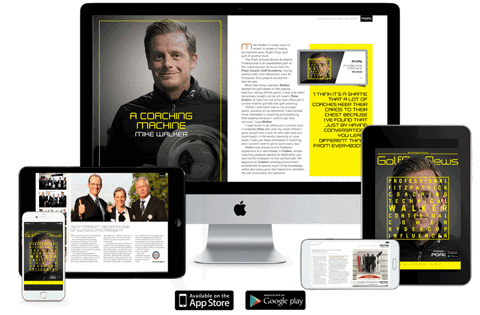 IGPN originally took the form of a print publication for a number of years, however, with the continued development of digital communications and the work of publishers, All Square Media, the magazine went exclusively digital, ensuring it can be read widely and provides the best possible responsive and interactive reading experience no matter what device is being used.
Its success has largely come from the quality of content produced, both in-house, and using curated international expertise from a wide variety of expert contributors. Content is featured in a broad range of areas such as marketing, coaching, psychology, productivity, business management, career development, golf development, sustainability and much more.
The magazine also ties in to the Association's 'A.S.K.' (standing for Attributes. Skills. Knowledge.) activity in which content is created and curated for a dedicated thought-centre on the PGAs of Europe website – www.pgae.com/ask – and is open for PGA Professionals to read whilst providing a valuable content resource for PGAs to use in their own communications.
If you would like to contribute to IGPN or A.S.K. then please contact Aston Ward at aw@pgae.com.